题目:The suppression of prostate LNCaP cancer cells growth by Selenium nanoparticles through Akt/Mdm2/AR controlled apoptosis

作者:Ling Kong a,1, Qing Yuan a,b,1, Huarui Zhu a, Ying Li c, Quanyi Guo d, Qin Wang b, Xiaolin Bi a,*,
Xueyun Gao a,**

单位:
a CAS Key Laboratory for Biological Effects of Nanomaterials and Nanosafety, Institute of High Energy Physics, Chinese Academy of Sciences, Beijing 100049, PR China
b Institute of Cancer Biology and Drug Screening, School of Life Sciences, Lanzhou University, Lanzhou 730000, PR China
c Department of Oncology, General Hospital of People's Liberation Army, Beijing 100853, PR China
d Orthopaedic Research Institute, General Hospital of People's Liberation Army, Beijing 100853, PR China

摘要:
The trace element Selenium is suggested having cancer prevention activity and used as food supplement. Previous results had shown Selenium nanoparticles are safer compared with other Selenium compounds like selenomethionine, sodium selenite and monomethylated Selenium, however, its anticancer activity and intrinsic mechanisms are still elusive. Here, we prepared Selenium nanoparticles and investigated its inherent anticancer mechanisms. We found Selenium nanoparticles inhibit growth of prostate LNCaP cancer cells partially through caspases mediated apoptosis. Selenium nanoparticles suppress transcriptional activity of androgen receptor via down-regulating its mRNA and protein expression. Moreover, Selenium nanoparticles activate Akt kinase by increasing its phosphorylation, promote Akt-dependent androgen receptor phosphorylation and Mdm2 regulated degradation through proteasome pathway. We suggest Selenium nanoparticles suppress prostate cancer cells growth by disrupting androgen receptor, implicating a potential application in cancer treatment.
文章网址链接:
Biomaterials 32 (2011) 6515-6522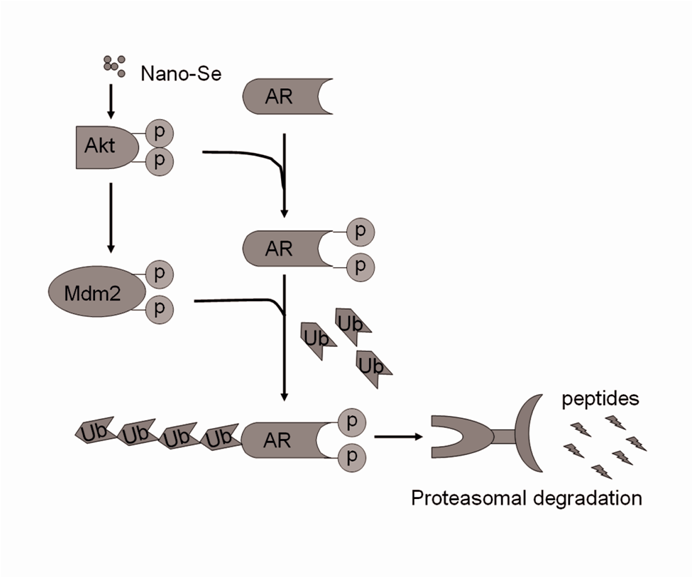 硒诱导前列腺癌细胞凋亡的分子机制